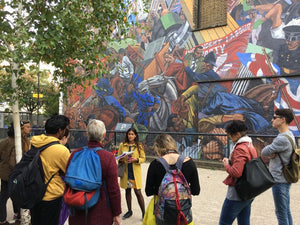 Discover the City's rich migration history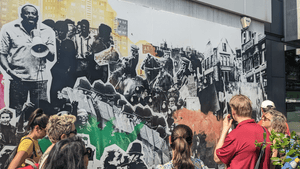 Book a group walking tour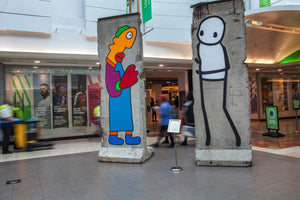 "Many thanks to you and your team for a splendid day out.
Hugely entertaining, informative and excellent exercise."
Where better to discover the richness of Britain's migration histories, than the City of London - where hundreds of stories, over thousands of years demonstrate that migration is woven into the fabric of our society?
From Jewish Synagogues to Roman walls, hidden monuments to the Royal exchange, this tour shines a light on how migration shaped the financial heart of Britain across the centuries. Our expert tour guides will offer a unique and memorable experience, exploring and uncovering the stories you know, and others you don't. 
Starting location: Bank of England, Threadneedle St, London EC2R 8AH (Exact location to be shared ahead of tour)
Duration: 90 minutes
Group size: up to 20
Timetable: Our walking tours run from Tuesday - Friday, from July 2023 until September 2023
Things to note: 
There are a few public bathrooms along the way, but if you need to stop in between them, you can let your guide or volunteer in your group know and we can find a cafe or somewhere to stop.
We welcome you to contribute and share your thoughts, experiences and personal stories as we go.
Everyone has a migration story and all tour participants will be invited to fill in a Migration Story Disc - these can be kept or shared with the Migration Museum, and become part of our collection. 
How to Book
Please click on the button above to schedule your date and time.
Fill in your name, email and phone number and we will contact you to confirm the booking and arrange payment. We can send an invoice or accept payment online.
We will send detailed instructions regarding where to meet and how to recognise us.
Please contact partnerships@migrationmuseum.org if you have any questions.
A fascinating view of the city
★★★★★

Many thanks to you and your team for a splendid day out.  Hugely entertaining, informative and excellent exercise. 
★★★★★

Just a note to thank the Migration Museum team for another great day yesterday. The walk was well put together and inspiring in its sweep and scope, and the welcome at the end was very warm. 
★★★★★

Thank you and all the team for an amazing walk on Saturday. It was superb on all levels.
We really enjoyed meeting the other walkers and had so many good conversations.
★★★★★

I thought the event was well organized, enlightening, and full of very pleasant surprises.
Be a part of our journey
We're delighted to have been given the green light for a permanent Migration Museum in the City of London (opening in 2026).
By booking a tour you will help to fund our future exhibitions, events and education programme - all powerfully illustrating how migrants and migration are very much part of all our lives in the UK. Thank you.
Want to discuss further?
Please contact our team to find out more.
You can fill in the form below or email partnerships@migrationmuseum.org
Please leave your number if you would like us to call you back.
More Opportunites
Explore more ways to engage with the Migration Museum and make a home for migration stories in your organisation.