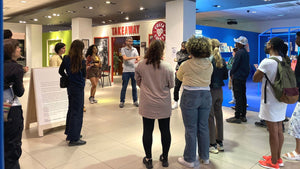 An inspiring venue for team building & events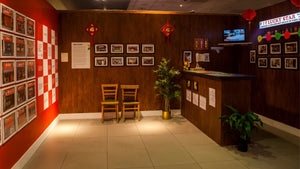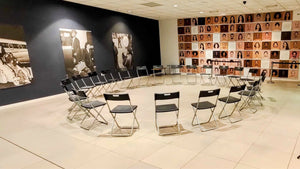 A great space to get talking
Hold a unique event at the Migration Museum with up to 250 people. 
What we offer:
Use of our Exhibition Space
A beautiful setting featuring our latest exhibition Taking Care of Business: Entrepreneurs and the Making of Britain. It is immersive and moving, featuring many stories from migrants who have built their businesses in the UK.
Set up to emulate a street, our venue features 7 semi-enclosed areas which focus on different aspects of the exhibition, and make the environment feel warm and welcoming. They also work exceptionally well as break-out spaces for groups or up to 15 people.  These can be set up with tables and chairs as required. They are:
Takeaway
Homeware
Cafe

Cornershop
Hairdressers
Tech
Nightlife
Use of our unique Events Space
A large, light and airy space, with one wall featuring the installation Humanae by Angélica Dass - an incredible photographic artwork that matches skin colour to pantone shades. 
Tables and chairs to accommodate up to 80 people in conference arrangement, 40 people cabaret style, or 30 people in a workshop circle arrangement. 
Sofas for breakout/coffee area
Stage set-up
Wifi access
Use of freestanding screen and projector
Catering
We can provide snacks, refreshments, tea, coffee and evening drinks. If you require lunch we can also recommend and facilitate some excellent local catering options from migrant entrepreneurs. Or if you would like to organise your own catering, that's fine too.
Add-ons
Let us know if you would like to add a private tour or migration/ice-breaker workshop with our experienced team. We'd love to share some of our migration stories with you.  
Availability
The Migration Museum is available to hire on: 
Monday 9am - 7.30pm
Tuesday 9am - 7.30pm
Wednesday-Friday 5pm - 7.30pm
Location
Located in Lewisham Shopping Centre we are very well connected with the rest of London and the South East. There is ample parking in the shopping centre car park and direct trains from London Bridge and London Victoria. We're just 30 minutes from London City Airport.  
If travelling by train we are: 
4 mins from New Cross
7 minutes from London Bridge
15 minutes from Canary Wharf
20 minutes from Orpington
25 mins from Stratford
40 minutes from Sevenoaks
The next step
Please contact us and we'll be in touch to plan your time to make sure that things run smoothly and your team has the best experience. We look forward to welcoming you. 
Contact us to discuss your needs
Contact our team to find out more.
You can fill in the form below or email partnerships@migrationmuseum.org
Please leave your number if you would like us to call you back.
What our visitors say...
We've hosted a wide range of organisations and this is what they had to say:
"A few weeks back, Barker Langham's whole London team made the short trip from Islington to Lewisham to visit the Migration Museum's Taking Care of Business exhibition.
It is a refreshing and timely reminder of the power of honest storytelling and simple but careful design to 'immerse' and transport us; such as a remake of a Chinese takeaway, complete with counter-laminated menus, wall-mounted telephone, and a child's half-finished homework stacked behind the counter.
The exhibition honours the people it represents and encouraged us to venture back out into the everyday with fresh eyes and renewed curiosity and appreciation.
The gift shop is given new life as a delightful Maker's Market that celebrates local artists and entrepreneurs.
As a team, we were thrilled by what we experienced. Needless to say, we can't wait to see what the Migration Museum does next."
Thank you for hosting us last week, we had a great time and loved the museum tour.
The Migration Museum is truly an experience and we will be strongly recommending it to our partner network.

Izzy Obeng

Foundervine
Thank you again for organizing our visit and welcoming us to your beautiful exhibition earlier this month. It was just as touching as the first time.

Paolo Cocco

Science Museum
Thank you so much for hosting us yesterday. The team really enjoyed their visit and I know a couple are planning on visiting again this weekend, with families in tow.

Petra Abbam

BBC Proms
The Migration Museum was a perfect venue for our staff away day, enabling us to connect with each other in new and meaningful ways through the stories that were shared. The team at the museum were a dream to work with in the run up to the day and made us feel so welcome.

Jonathan Price

Paul Hamlyn Foundation
Taking Care of Business
While you are here, we invite you to explore our latest exhibition Taking Care of Business - full of inspiring stories of entrepreneurship and powerfully illustrating how migrants and migration are very much part of all our lives in the UK. 
More Corporate Opportunites
Explore more ways to engage with the Migration Museum and make a home for migration stories in your organisation.